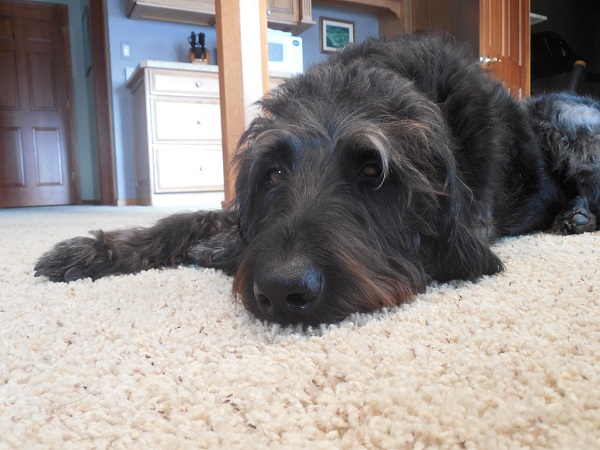 Pet Odor Control
One of the most difficult odors is urine. Techniclean uses one of the best applications for removal of annoying and persistent odors. Our process is safe, effective and reasonably priced. In locating invisible urine deposits, we use several different inspection tools: Blacklight or Ultra Violet (UVA) Light and penetrating moisture sensors . For successful pet odor decontamination we use a bio-enzymatic digester  which contains living organisms which digest matter during the deodorization process.
Complete odor removal in severe odor contamination situations might require a variety of techniques and procedures such as:
1) Discarding contaminated carpet cushion
2) Use of bio-enzymatic digesters
3) Disinfecting
4) Cleaning
More than just a price quote! Our cleaning & decontamination specialist will visit your home for a no obligation inspection of all your pet odor contaminated surfaces. We'll inspect for damage and staining and provide you with a free written no obligation quote.
Techniclean is fully licensed and insured company and our work is 100% guaranteed.  We invite you to try our services and join our many satisfied customers! You'll be glad you did.
We think Techniclean does absolutely beautiful work! Their technicians come on time and are meticulously careful leaving the house looking perfect.–Barbara Nelson, Palatine, IL.
Absolutely Professional on time knowledgeable-well mannered-great technicians- very helpful. Really one of the best experiences I have had in a long time. I wish that every company I deal with had representatives as good as Elvis from Techniclean. Great Job.–Mike C., Waukegan, IL
They were fantastic. They alerted me to several paint stains on my rugs that were made by my contractors, and spent extra time, at no extra charge, to make sure that they removed them. They were punctual and polite, and I even received a handwritten thank you note from the owner. The rugs look great, and I would recommend them to anyone.–Nicole Jacob, Winnetka, IL