Commercial Air Duct Cleaning
The Environmental Protection Agency claims that indoor air has been found to be up to 70 times more polluted than outdoor air. Now consider that most people spend between 60% to 90% of their time indoors… The facts can be quit alarming. Considering that we spend so much time indoors, it makes perfect sense to clean the source of our indoor air quality problems… Our Air Ducts.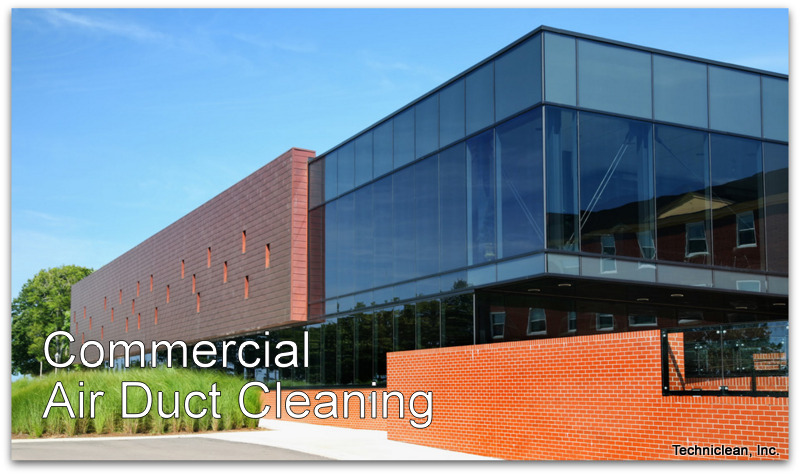 Techniclean  Commercial Air Duct Cleaning Process
Increase Energy Savings
Increase Heating/Cooling Efficiency
Improve Health Standards
Improve Office Environment
Techniclean uses the most advanced H.E.P.A. (High Efficiency Particulate Air) Filtered Air Duct Cleaning System available. It is designed and manufactured by Nikro Industries, one of the leading manufacturers of H.E.P.A. filtered vacuum equipment in the United states. All of our equipment is manufactured to meet or exceed OSHA, EPA, and NADCA Standards for cleaning the air of nuisance dusts.
Techniclean Commercial Air Duct Cleaning Specialists clean the interior of the duct work using a combination of mechanical brush system and high pressure air washing under negative pressure.  After we complete your commercial air duct cleaning you can enjoy a cleaner, more healthier office environment.
Techniclean is fully licensed and insured company and our work is 100% guaranteed.  We invite you to try our services and join our many satisfied customers! You'll be glad you did.
Additional Commercial Cleaning Services
We think Techniclean does absolutely beautiful work! Their technicians come on time and are meticulously careful leaving the house looking perfect.–Barbara Nelson, Palatine, IL.
Absolutely Professional on time knowledgeable-well mannered-great technicians- very helpful. Really one of the best experiences I have had in a long time. I wish that every company I deal with had representatives as good as Elvis from Techniclean. Great Job.–Mike C., Waukegan, IL
They were fantastic. They alerted me to several paint stains on my rugs that were made by my contractors, and spent extra time, at no extra charge, to make sure that they removed them. They were punctual and polite, and I even received a handwritten thank you note from the owner. The rugs look great, and I would recommend them to anyone.–Nicole Jacob, Winnetka, IL