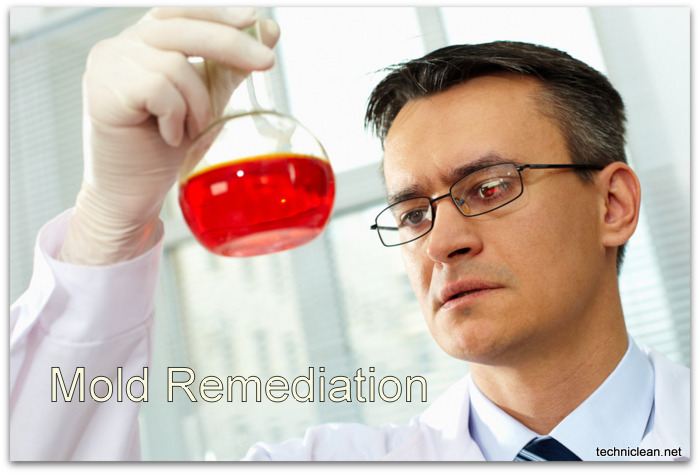 Professional Mold Remediation
Molds can be found almost anywhere; they can grow on virtually any organic substance, as long as moisture and oxygen are present.
When mold growth occurs in buildings, adverse health problems may be reported by some building occupants, particularly those with allergies or respiratory problems. Potential health concerns are an important reason to prevent mold growth and to remediate/ clean-up any existing indoor mold growth.
Caution should be used to prevent mold and mold spores from being dispersed throughout the air where they can be inhaled by building occupants.
Techniclean specializes in mold removal, inspections and indoor air quality. In addition to mold and indoor air quality our company can handle a wide range of environmentally issues like water, fire, sewage… Our mold remediation specialists can provide you with the customized plan for your mold remediation project.
Techniclean mold remediation specialists go through extensive training workshops and ongoing training courses. Our mold remediation specialists follow the Institute of Cleaning & Restoration Certification (IICRC) Standard and Reference Guide for Professional Mold Remediation S520. In addition, our company and our technicians are Lead-Safe Certified by EPA (US Environmental Protection Agency).
Mold Prevention Tips
Fix leaky plumbing and leaks in the building as soon as possible.
Watch for condensation and wet spots. Fix source(s) of moisture problems as soon as possible.
Prevent moisture due to condensation by increasing surface temperature or reducing the moisture level in air (humidity).To increase surface temperature, insulate or increase air circulation. To reduce the moisture level in air, repair leaks, increase ventilation (if outside air is cold and dry), or dehumidify (if outdoor air is warm and humid).
Maintain low indoor humidity, below 60% relative humidity (RH), ideally 30-50%, if possible.
Clean and dry wet or damp spots within 48 hours.
Don't let foundations stay wet. Provide drainage and slope the ground away from the foundation.
Techniclean is fully licensed and insured company and our work is 100% guaranteed.  We invite you to try our services and join our many satisfied customers! You'll be glad you did.
We think Techniclean does absolutely beautiful work! Their technicians come on time and are meticulously careful leaving the house looking perfect.–Barbara Nelson, Palatine, IL.
Absolutely Professional on time knowledgeable-well mannered-great technicians- very helpful. Really one of the best experiences I have had in a long time. I wish that every company I deal with had representatives as good as Elvis from Techniclean. Great Job.–Mike C., Waukegan, IL
They were fantastic. They alerted me to several paint stains on my rugs that were made by my contractors, and spent extra time, at no extra charge, to make sure that they removed them. They were punctual and polite, and I even received a handwritten thank you note from the owner. The rugs look great, and I would recommend them to anyone.–Nicole Jacob, Winnetka, IL